Governor Hochul is appealing our quarantine lawsuit win. Oral arguments for the appeal are scheduled for Wednesday, September 13, 2023 at 10:00 am at the Supreme Court of the State of New York, Appellate Division, Fourth Judicial Department, 50 East Avenue, Rochester, NY 14604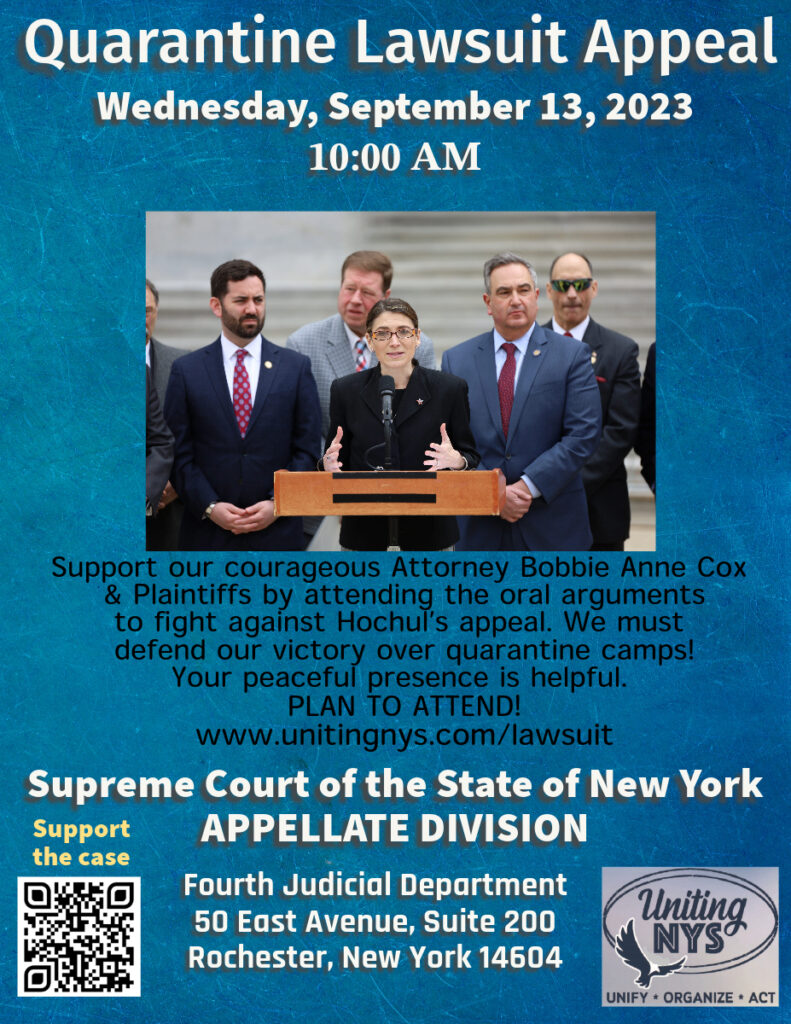 Listen to the interviews below which explain what is happening with our lawsuit and why Governor Hochul is appealing our win. Also, listen to find out why it is so important for you to attend the oral arguments.
·     Click HERE to watch The Charlie Kirk Show: The Case of the Covid Quarantine Camps 
Click Here for the audio version.
·      Listen HERE to
Good Morning CHD on CHD-TV with Michael Kane, 
as he interviews Attorney Cox.
Your freedom as a New Yorker depends on this hearing. It is so important that we peacefully pack the courtroom. The judges need to see that we care about the outcome of their decision on this illegal and unconstitutional regulation. The more people that come the better! Please support us by making plans today to attend and bring as many people as possible with you.
Live Stream Options:
If you live too far away from Rochester, but would like to watch oral arguments, we have two live stream options.
Click on one of the two links (titles) below on
Wednesday, September 13th at 10:00 am:
Supreme Court Appellate Division
Here are some ways to help:
*Spread the word! Tell family and friends! Share our flyer & interviews.
* Offer to take a carload of people from your area. Encourage others to do the same.
*Invite homeschool families.
Some homeschool groups are working together to bring their kids. This is a great educational opportunity for them, and they will be part of history!
* If you live far away, consider going to Rochester on September 12th and spending the night in a hotel. If you do, you can also attend the Mix & Mingle Fundraiser for Attorney Cox on Tuesday, September 12th. (Scroll down to the section called Mix & Mingle Fundraiser for Attorney Bobbie Anne Cox).
She's been handling this case for over a year now pro bono! You can also donate HERE.
Here are some local hotel suggestions: 
Fairfield Inn & Suites by Marriott Rochester West/Greece
400 Paddy Creek Cir, Rochester, NY, United States
Home2 Suites by Hilton Rochester Greece
400 Bellwood Drive, Rochester, New York, 14606, USA
Holiday Inn Rochester Downtown
70 State St, Rochester, NY 14614
Hilton Garden Inn Rochester Downtown
155 E Main St, Rochester, NY 14604
 Spread the word! Share this Information!
Mix & Mingle Fundraiser for Attorney Bobbie Anne Cox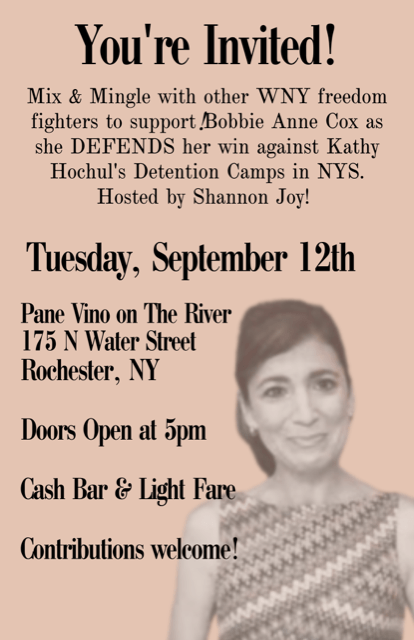 Shannon Joy (of The Shannon Joy Show) is hosting a
Mix & Mingle with Attorney Bobbie Anne Cox along with freedom fighters on
Tuesday, September 12th at 5:00 PM
at Pane Vino on The River,
175 N. Water Street, Rochester, NY.
There will be a cash bar & light fare. This event is the night before oral arguments on the quarantine lawsuit appeal. Everyone is invited, so plan to attend!  Also, help support Attorney Cox by making a donation at the event that will go towards her fight for our freedom.
Click HERE for the event page on Facebook.