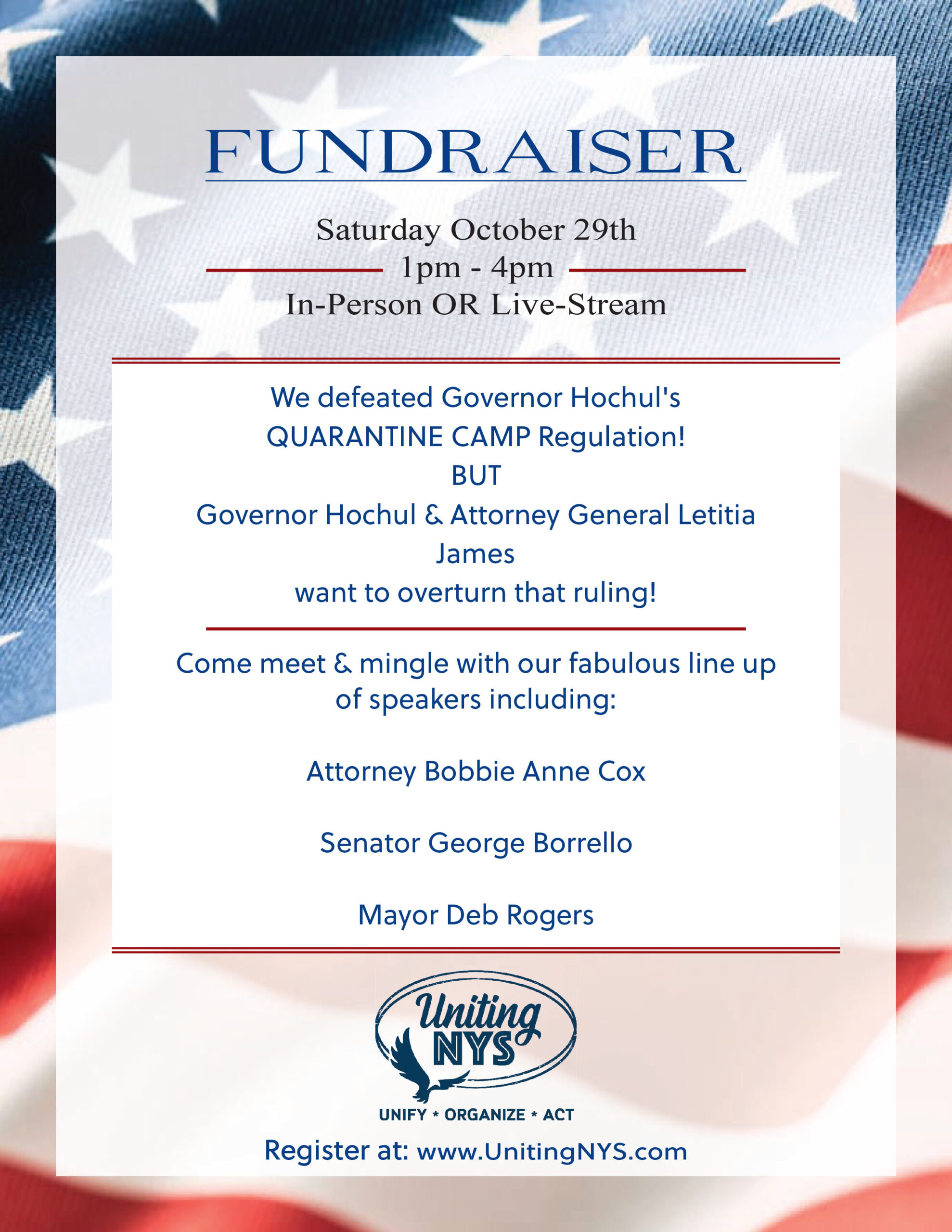 Date
Oct 29 2022
Expired!
Fundraiser Party for our Quarantine Camp lawsuit!
Fundraiser to Support Our Successful Lawsuit to
STOP Quarantine Camps
& Spread the Word About Hochul's Plan to Appeal our Victory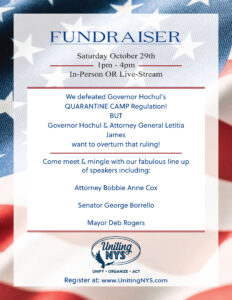 REGISTER HERE:
Link to register for IN-PERSON event:  https://give.cornerstone.cc/unitingnys+inperson+fundraiser
Link to register for LIVE-STREAM event:  https://give.cornerstone.cc/unitingnys+livestream+fundraiser
———————————————
Date:  Saturday, OCTOBER 29, 2022
Time:  1:00 to 4:00 p. m.  (LIVE-STREAM will begin at 2pm)
Purpose:  Our goal is to raise funds to help defray the costs associated with the "Quarantine Camp" lawsuit that our attorney brought on behalf of Uniting NYS, Senator Borrello, Assemblyman Tague, Assemblyman Lawler and ALL New Yorkers to STOP Governor Hochul's quarantine camp regulation.  We WON the case!  But now Hochul plans to appeal. We must tell all New Yorkers of her terrible intent!
Our amazing attorney, Bobbie Anne Cox, has been handling this case for the past several months pro bono, and funding the case herself!  Let's say "Thank you" to her!
Place:  The Elba Volunteer Fire Dept. Recreation Center, 7143 Oak Orchard Rd. (Rt. 98) 4 miles directly north of the Batavia Thruway Exit  (FOR THOSE LIVE-STREAMING… the link will be emailed to you the day before)
 Speakers: NYS Senator George Borrello (lead plaintiff on the lawsuit), Bobbie Anne Cox (Attorney on the Lawsuit), Deb Rogers (Mayor of Williamsville), and Assemblyman Dave DiPietro.
 Cost: $30 in person or via live stream.
Please consider sponsoring the event in any amount!  Sponsors of $100 or more will be acknowledged.
If you would like to be a sponsor, please email events@unitingnys.com
————————————–
Details:  For In-Person attendees only…  Refreshments and light fare will be provided;  Raffle items;  Silent auctions;  And more!
(Note:  We're sorry but refunds will not be able to be provided if you miss the event for some reason).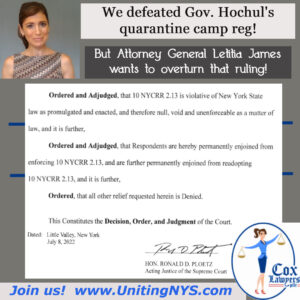 Thank you!