We WON!
NYS Supreme Court Judge Ronald Ploetz has ruled in our favor!  The Governor's forced quarantine regulation has been STRUCK DOWN as unconstitutional.  It is null, void and unenforceable, and the Court has prohibited the Governor and DOH from continuing to issue the regulation!
Read the Judge's decision here:  Court decision
Hochul Plans To APPEAL.  Help Us Defeat the Appeal!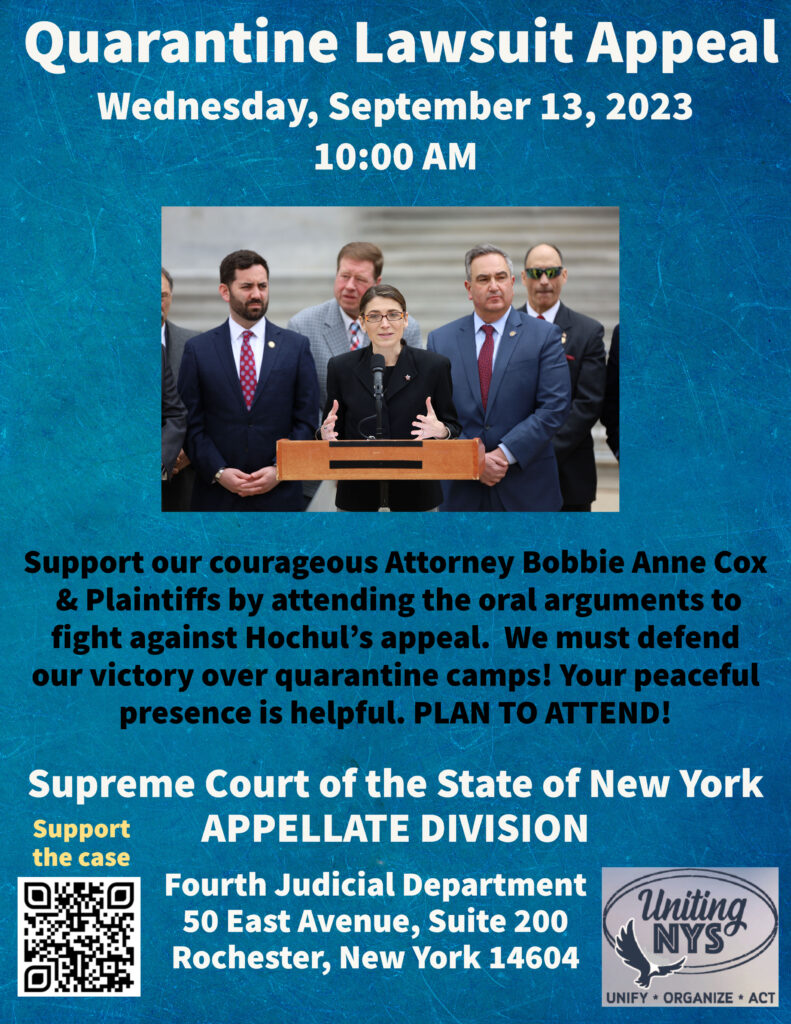 We have won, but tyrannical Governor Hochul plans to APPEAL our win.  She is trying to overthrow the Supreme Court Judge's ruling.
*HOCHUL WANTS THE POWER TO LOCK YOU UP IN QUARANTINE CAMPS!*
  Here is how you can HELP us:
Come watch the Oral Arguments on the Appeal of Quarantine Lawsuit win. Please help us peacefully pack the courtroom on Wednesday, September 13, 2023 at 10:00 am.                                Supreme Court of the State of New York
Appellate Division
Fourth Judicial Department
50 East Avenue, Suite 200
Rochester, NY 14604

Tell Hochul and Attorney General Letitia James to back down and STOP their appeal.  Call, email, Tweet them and tell them you do not support tyranny and you are against quarantine camps!  They are both running for election in November.  Remind them you are a voter, and you are watching to see if they drop the appeal…  Governor Kathy Hochul (518) 474-8390,  (212) 681-4580, Twitter: @GovKathyHochul, @KathyHochulAttorney General Letitia James (800) 771-7755  Twitter: @TishJames, @NewYorkStateAG
Support our lawsuit…  Bobbie Anne Cox, Esq. is handling the case PRO BONO, which means she is not getting paid for her work.  Please consider making a donation today to help her continue fighting for us!  All will be lost if our amazing attorney cannot defend our historic win.   Donate here
Ask your NYS representatives to support our lawsuit… Email and call your representatives and tell them that Uniting NYS, along with a group of NYS Legislators, have WON a lawsuit against the Governor and DOH over the illegal forced "Isolation and Quarantine" regulation.  Tell them Hochul is shamefully appealing our victory!  Let them know you'd like them to support the case in one or all of the following ways… by making a public statement on their website supporting our our win and telling the Governor NOT to appeal the decision; by writing a letter to the Governor and Commissioner of Health telling them to "stand down" and not to appeal this decision; and any other way they think is good.  They can reach out to us at events@unitingnys.com or they can reach out to Attorney Bobbie Anne Cox directly.
Educate others on this regulation, and tell them about our lawsuit.  Spread the word… There is power in numbers, and we need all New Yorkers to hear about this terrible regulation, and to stand with us in this lawsuit.  Post our website on your social media, share it in text messages, emails, everywhere…  www.UnitingNYS.com     And share our 2 minute video with everyone…  VIDEO

Join Uniting NYS…  It's free.  Just sign up for our emails!  This is the best way to stay informed, and it automatically makes you a member of Uniting NYS.

Become a "Lawsuit Ambassador"… Help us do media outreach and spread the word far and wide about our lawsuit.  Whether it's in print, online, TV, or other, we need to create a media storm about this anti-American regulation.  Help us get the news outlets to publicize our win.